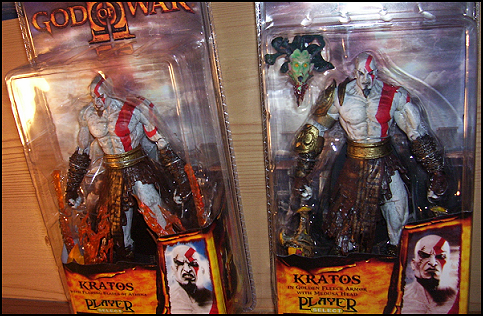 So, it's been a long while, but I have a review for you today. Our review is the God of War himself, Kratos.
If you have been leaving under a rock since 2005 and have no idea who Kratos is, well, let's see if I can help you with that. Kratos is the main character for the God Of War video game series. If you haven't played the game yet, skip this part, as I'm going to explain a little about Kratos and might also give away plot spoilers. You've been warned.
Kratos is an original character created by David Jaffe, based and set in Greek Mythology. The world in which Kratos' story takes place is a fictionalized version of ancient Greece, with the mythological aspects altered from the actual myths to fit the plot. Kratos's character is based on Greek Mythology character Cratos, the personification of strength and power and one of the guardians of Mount Olympus. Some games also postulate that Kratos's personality and story is heavily borrowed from that of Hercules/Heracles.
(
Spoilers
Collapse
)
So enough about him and the game, let's get to the figures.
Now I bought both figures, the standard version is Kratos with the flaming blades of Athena. The second one is Kratos in his Golden Fleece Armour with Medusa's head. So there's not a huge difference between the figures except the heads and armour. But for reviewing sake we'll do them one at a time.
The figures are part of NECA's Player Select line, which is basically just a video game line. The other figures are Lara Croft from Tomb Raider, Kain from Legacy of Kain & Agent 47 from Hitman. I believe the next wave of figures is going to be based off of the Castlevania games.
The package itself is really neat; the figures come in a clamshell. The front is a backdrop from the game and the back of the package has some pics of the figures and what not. Basically it.
(
Pictures
Collapse
)
Now the figures themselves.
First we'll do Kratos with the flaming blades of Athena.
Let's start with the accessories we have the blades of Athena. The blades were given to Kratos after defeating Aries. They are basically golden versions of his Blades of Chaos, which are Kratos's most used weapons. These weapons are two large, falchion-like blades attached to chains, which wind around Kratos' wrists and are seared into his arms at the ends. He can do all kinds of really neat moves with those puppies. At the end (or start depending on your perspective) of the chains you can see two pegs that stick out on both sides, those pegs fit into the wrists on Kratos so he can hold the chains and you can pose them. The blades themselves can come out of the chains if you want to just have Kratos hold them.
(
Pictures
Collapse
)
The figure itself is really neat. They did a good job on painting it and giving him his white/gray skin tone. The ONLY little nitpicking thing they left out is the scar on his stomach. Since these are based on the second game, he got a scar from a stab wound from Zeus. But that's nitpicking like I said. Everything is well detailed; I cannot praise NECA enough when they do their stuff. This version of Kratos comes with the angry face.
(
Pictures
Collapse
)
Articulation is also really good. He might not be as well done as a Marvel Legend or a Buffy Deluxe figure but it's enough for pose ability. I didn't have a problem with his joints when taking him out of the package. I don't normally have that problem with the joints as I do with other figures. So that's always a plus.
Here's a AFNEWS tip:
When dealing with stiff joints, there's two ways you can do this that I recommend. 1) If you have a blow dryer, you can heat up the joints and by doing so you soften the joints, you should be able to move them. 2) Or, if you don't have a blow dryer you can always take the figure and run it under hot water. 3)You can also loosen stiff joints by sticking the figure in the freezer for about half an hour.(From Jae)
Either way, make sure to be careful. Broken toys make the baby Pinhead cry.
Our next figure is the Golden Fleece Armour Kratos with Medusa's head.
For the accessories, this version of Kratos comes with his blades and a spare hand holding Medusa's head. The blades are the same ones that the other figure comes with, but they don't have the fire chains attached to them. The Medusa head comes with a hand molded to her head so it's very easy to pop off his hand and replace it with the Medusa head.
(
Pictures
Collapse
)
The paint job is as awesome as the first one. The only real difference between the two figures is this version has his Golden Fleece Armour. This version of Kratos comes with his normal looking face. Well, normal for Kratos.
(
Pictures
Collapse
)
Overall, I really have to give these figures a 10. NECA doesn't disappoint ever.
(
Pictures
Collapse
)
That's it for now. Well, until the next review. Which I hope will be soon.
Information about Kratos & the God Of War games were taken from Wikipedia.